---
HTS Group recertified for AS4801:2001 OH&S Management Systems
HTS Group's Safety Management System was recently audited by QMS Certification Services as part of the regular recertification process.
The auditor carried out a thorough review of all documentation and processes, and reviewed safety management across a range of projects including a site inspection of our new Thornton facility. Results for the audit were very positive and our Safety Management System has once again been recertified.
HTS Group operates in accordance with the requirements of AS4801:2001 OH&S Management Systems for the provision of asbestos removal, demolition, civil construction, mould remediation, site maintenance and roofing services. We first achieved AS4801 certification in December 2012 and have continue to improve our systems and standards every year.
Our team are additionally working toward the new ISO 9001 Quality Management Systems standard which is an international standard designed to support continuous improvement, streamlined operations, and reduced costs.
HTS Group is aiming to achieve this during our 2019 external audit.
Thanks to Michelle Pickett for her efforts managing the audit process and congratulations to the whole team for maintaining high safety standards on site!
Interested in keeping up with the latest news and developments at HTS Group? Follow us on Facebook or Instagram, and bookmark our blog.
Did you know that every year in Australia, almost 4,000 lives are lost to asbestos-related illnesses?
A breakdown of this figure shows the reach and impact of this ongoing tragedy:
48 die from Laryngeal Cancer
77 die from Asbestosis
766 people die from Mesothelioma
3,017 die from Asbestos Related Lung Cancer
As a business with over 80-years combined experience in commercial and residential asbestos removal services, HTS Group takes seriously its responsibility in helping raise awareness of the dangers of asbestos and promote safe practices around its detection, testing and removal.
That's why this November we got so strongly behind Asbestos Awareness Month, an initiative to educate Australians on the dangers of asbestos, and raise money to help combat the insidious effects of asbestos-related illnesses.
For those who may not be aware, asbestos fibres were used widely in building materials before the mid-1980s due to its flame-resistant attributes. If a home or commercial premises was built or renovated before 1987, it is likely to contain asbestos.
This hazardous material can be found under floor coverings such as carpets, linoleum and vinyl tiles, behind wall and floor tiles, in cement floors, internal and external walls, ceilings, eaves, garages, around hot water pipes, even in fences. Decades after being identified as hazardous, the widespread use of asbestos means it remains an often-hidden threat to public health.
Raising awareness of the dangers of asbestos
Here's how asbestos can put you and your family at risk if inappropriately handled:
Asbestos fibres get into the air when asbestos materials are damaged, disturbed or removed unsafely.
When crushed, it does not make ordinary dust, but breaks into tiny asbestos fibres that are too small to see, feel or taste.
These microscopically thin fibres are so small they can remain airborne for days after their initial disturbance, capable of entering the airways and lungs undetected and potentially causing severe asbestos related health-issues over an individual's lifetime.
Sadly, while our team works every day providing safe asbestos removal services, HTS Group is often called in to remove illegally dumped asbestos on roadsides, in paddocks, in parklands, and even in National Parks.
This year, HTS Group was pleased to see that the NSW Government increased fines for illegal asbestos dumping in NSW to a whopping $500,000 for individuals and $2 million for companies. It's a great start. And that kind of awareness-raising is part of the reason we threw our weight behind Asbestos Awareness Month.
The Blue Lamington Drive
We shared useful information and figures across our social media channels. We also themed our internal 'toolbox' meetings around Asbestos Awareness, and held a Blue Lamington Drive at our recent Thornton opening, attended by clients, suppliers, and neighbours of our new location.
An important fundraising vehicle for the Asbestos Diseases Research Institute, the Blue Lamington Drive was a great success. And we're proud to have been a part of it. HTS Group extends our thanks to everyone who engaged with Asbestos Awareness Month, whether in person or online, and who contributed their hard-earned money to our Blue Lamington Drive – every bit counts.
Remember, November may be over, but the risks of asbestos persist. If you're renovating, get a proper site inspection done – don't play renovation roulette! Report any illegal dumping, and NEVER try to move or remove asbestos without the appropriate protections.
Keep the following at the top of your mind at all times if you suspect you may be dealing with asbestos:
Be aware – is it there?
Be cautious – no go, until you know!
Be safe – safely dispose, don't expose
Be curious – if in doubt, find out!
And when in doubt, leave it to the professionals to find out – your health and family are just too important to consider messing about with asbestos.
HTS Group welcomes clients, suppliers and neighbours to our new Thornton facility.
On Friday 30 November HTS Group welcomed clients, suppliers, neighbours and friends to our new Thornton facility with an informal breakfast networking event. It was a great opportunity to show off our new premises, as well as to meet other businesses in the precinct and thank existing clients and partners for their support.
Our Business Development Manager Trevor Grieve took the opportunity to welcome everyone, before providing a brief overview of the range of services provided by HTS Group including asbestos removal, demolition, roofing, mould remediation, civil works and site maintenance. He also conducted the all-important business card prize draw! Congratulations to Peter Allen from PLA Management Services for taking out the prize.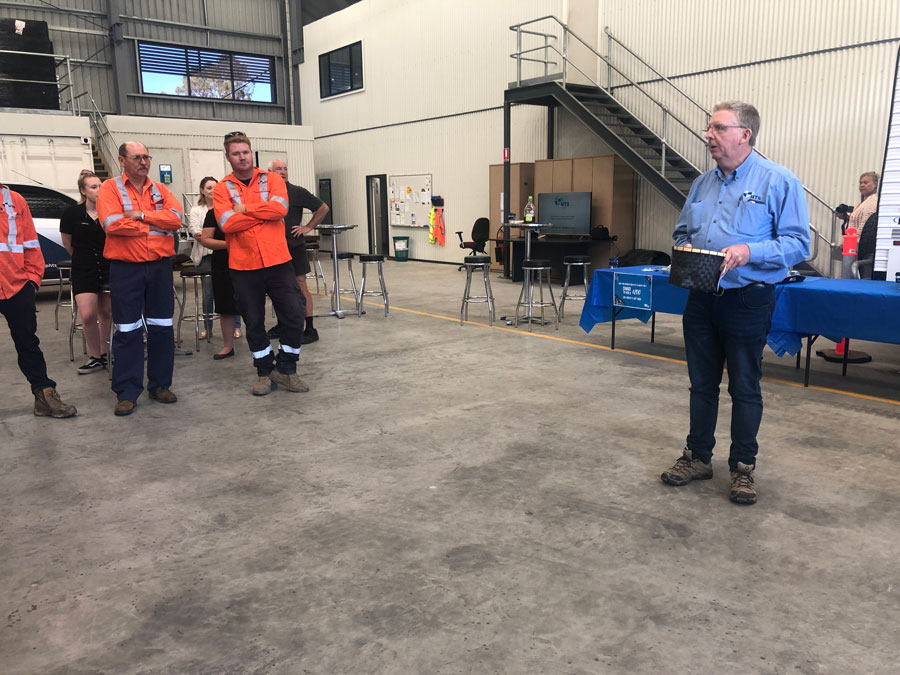 The November timing of the event also aligned with the end of Asbestos Awareness Month [LINK TO HTS AAM BLOG] so the HTS Group team took the opportunity to take part in the Blue Lamington Drive, helping raise awareness among colleagues, family, friends, neighbours, and communities of the dangers of asbestos when renovating or maintaining homes. The Blue Lamington Drive is one of the major vehicles for raising vital funds to support the Asbestos Diseases Research Institute. HTS Group was proud to be part of these efforts. Thanks again to all those who made a donation on the day to support this great cause.
While we're passing along our gratitude and appreciation, we'd like to say a big thank you to everyone who attended, to the HTS Group staff that helped organise the event, and to the team members who manned the BBQ on the day, turning out some delicious bacon and egg rolls.
Lastly, the day simply wouldn't have been the same without Sophie from Newy Brew serving up some sensational coffee, or the fabulous Blue Lamingtons from Sweet Moments By Design, East Maitland. You helped make the morning something really inclusive and welcoming for everyone in attendance.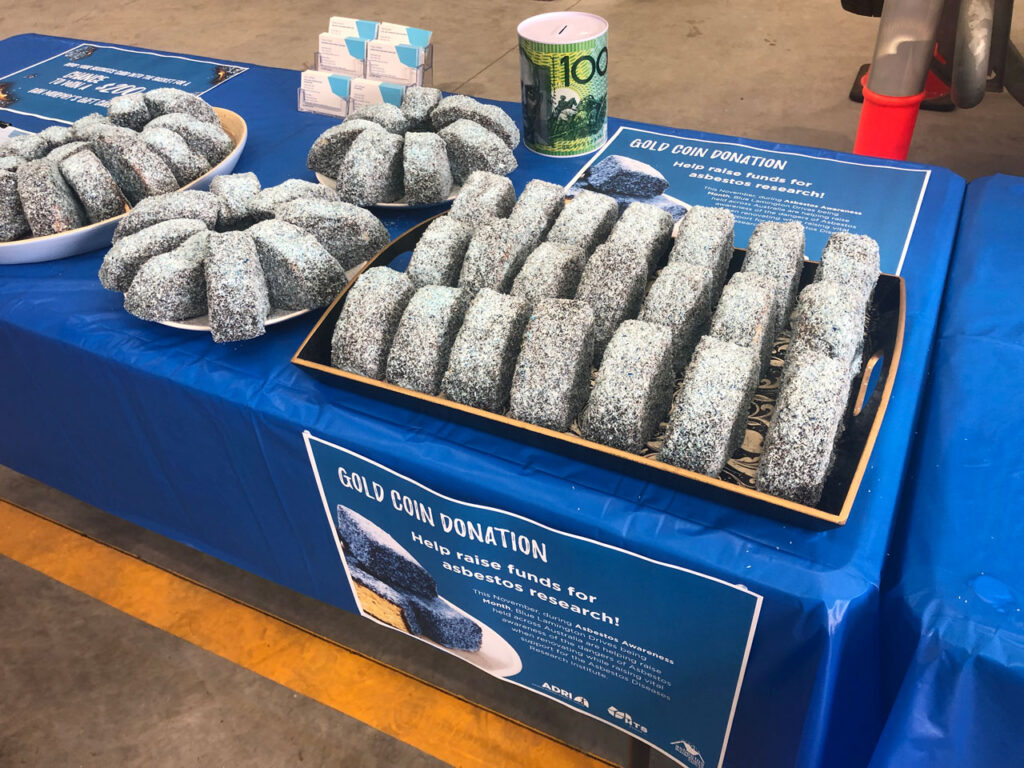 HTS Group is very pleased with our new facility, and look forward to seeing you all again at similar events in the future. Remember, if you're concerned about possible asbestos in your area, please give HTS Group a call on 1300 600 144 – we have the equipment and the experience to help make your renovation or removal a cleaner, safer affair.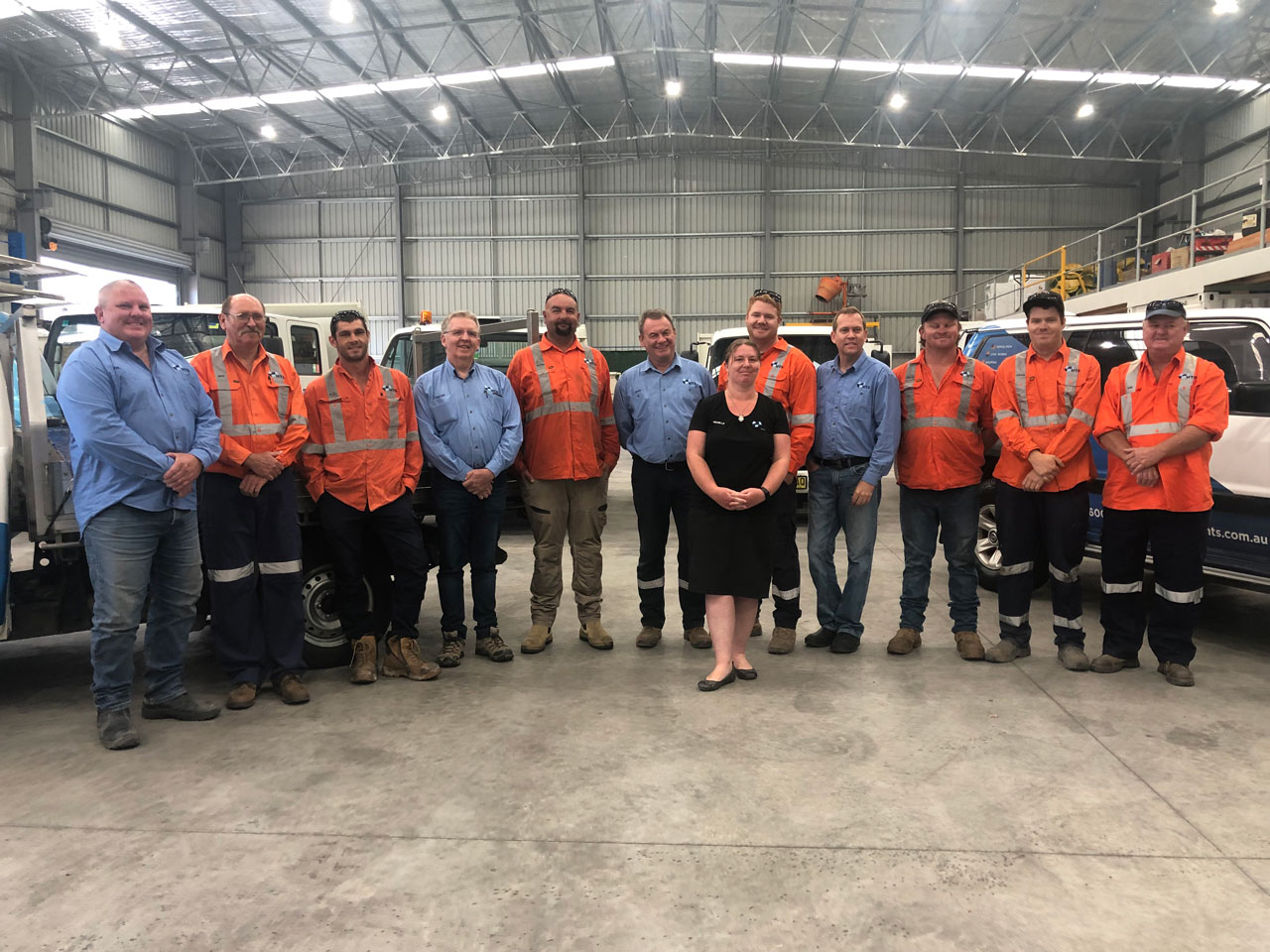 Last month, HTS Group took part in National Work Safe Month. Work safety is core to the services we offer, however it is particularly relevant for our asbestos removal services and the licensed and highly-skilled HTS Group staff that work in this area. It therefore seems fitting that the month that follows National Work Safe Month is Asbestos Awareness Month, and HTS Group is a keen participant in this Australia-wide initiative.
With asbestos-related diseases continuing to increase among Australians as a direct result of exposure to asbestos fibres during home renovations and maintenance, the importance of raising awareness about the dangers of asbestos in and around homes cannot be overstated. Asbestos Awareness month aims to educate as many Australians as possible about the dangers of Asbestos and how best to manage it.
Many wrongly believe that only fibro homes contain asbestos. Asbestos products can be found in any Australian home built or renovated before 1987 even brick, weatherboard, and clad homes. Asbestos can be found under floor coverings such as carpets, linoleum and vinyl tiles, behind wall and floor tiles, in cement floors, internal and external walls, ceilings, eaves, garages, around hot water pipes, fences, extensions to homes, outdoor toilets, dog kennels, and backyard sheds – it could be anywhere.
Since 2005, HTS Group has been providing asbestos testing and removal solutions across NSW, ACT, VIC, and QLD. To determine the presence of asbestos, we offer sampling, testing and analysing of material by a National Association of Testing Authorities (NATA) endorsed laboratory. The HTS Group team ensure that the removal of asbestos is conducted in accordance with Safe Work NSW Codes of Practice and WHS legislation. We produce a Safe Work Method Statement (SWMS) and Asbestos Removal Control Plan (ARCP) for every licensed removal project.
With our long history in this field, HTS Group will be doing our part to raise awareness during Asbestos Awareness Month and also raise money to support those impacted by asbestos-related diseases. We encourage our partners and clients to join us in this important initiative.
Got questions about asbestos? HTS Group can help.
For more information about how we can help – https://grouphts.com.au/asbestos-removal/
Download your healthy house checklist here.
Check out the 20 point safety check here.
Read more about Asbestos Awareness Month.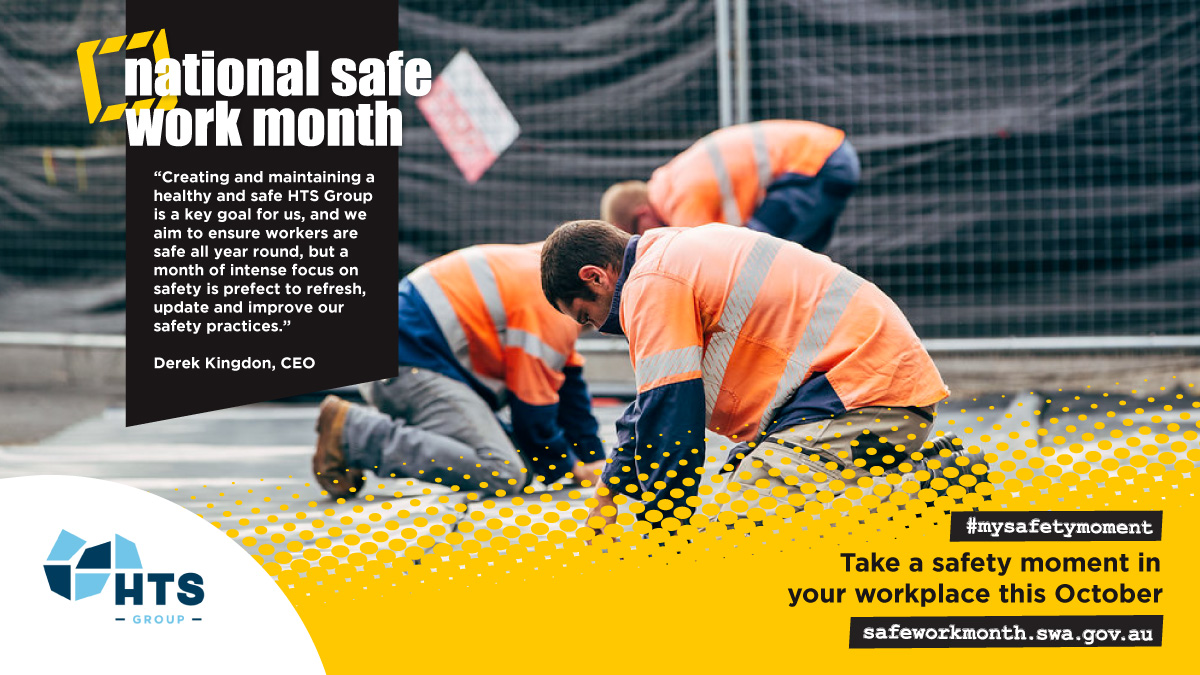 Creating a healthy and safe work environment is a key focus for HTS Group, and while we are committed to ensuring our team is safe all year round, it's always good to be reminded about the importance of work health and safety.
This month (October) is National Safe Work Month – a time when we have been celebrating the fact that Australia is one of the safest places in the world to work, but also a time when we have been renewing our commitment to building even safer workplaces. Putting people first is one of our core beliefs at HTS Group. Our staff are our greatest asset – they are a skilled, loyal and talent group of problem solvers – and creating a safe workplace is our number one priority.
Since 2005, HTS Group has adopted a range of government initiatives and management systems into our daily operating procedures to reflect our commitment to the safety of our staff, clients and the environment. HTS Group prepares both a Safe Work Method Statement (SWMS) for every project and a daily hazard assessment to foster a safe work environment for our loyal team of qualified staff.
Our work removing friable or non-friable asbestos is conducted in accordance with Safe Work NSW Codes of Practice and WHS legislation. We produce a SWMS and Asbestos Removal Control Plan (ARCP) for every licensed removal project. When it comes to our demolition services, HTS Group is also licensed and certified in accordance with Safe Work NSW and the Workplace Health and Safety Management System. To support our civil works, site maintenance and roofing services employees are equipped with high-risk work licenses in the areas of dogging, elevated work platforms, safe work at heights and confined spaces.
The theme of this year's National Campaign has been 'A moment is all it takes.' While a safety incident can happen in a moment and in any workplace, a moment's forethought can prevent harm. As the campaign comes to an end, we encourage all of our partners and clients who have not yet taken a moment this month to focus on workplace safety to join us in doing so.
During recent upgrades to the Tuggerah Super Centre, HTS Group were tasked with making changes to exterior walls as a new daycare centre was moving into the building, Windows cut from the Cement Wall. No easy task considering the location of the requested holes that would become windows for the daycare. A total of 10 large window hole cuts would need to be made on the building.
We got lucky with some nice days to complete the job, nothing but blue skies and more importantly not much wind that could have potentially made the job a little more difficult managing the crane.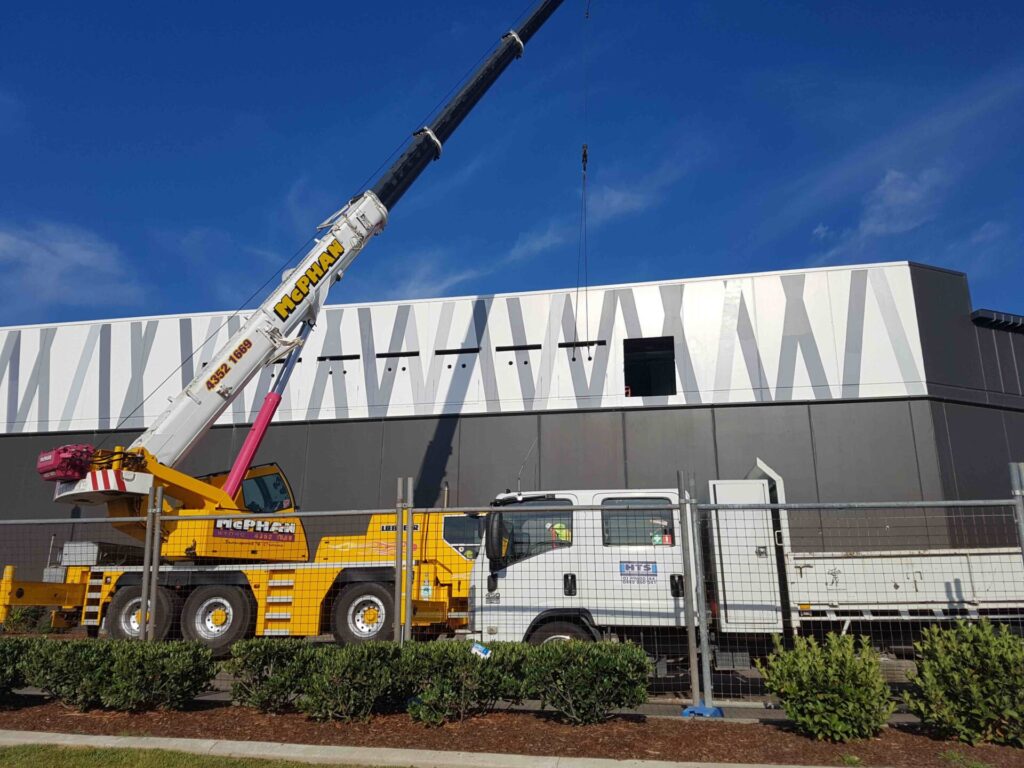 Using a Ringsaw it was possible to make these slices without needing an overcut. First, we cut into the centre of the marking some anchor holes to place chains through and hold onto the concrete panel with a crane then using a breakout cut along the top to allow the concrete piece to swing out away from the building. Without a breakout cut along the top, the panels would have pushed against the wall and meant the crane would need to do more of the work creating a potentially dangerous situation with concrete panels that were roughly 1.2 tonnes in weight.
As experts in controlled demolitions, HTS make sure we have a clear plan and safety procedures in place before we begin any job and ensure that everyone on site is appropriately trained to complete the task. This is is especially important on jobs like this with heavy machinery and waste product that needs to be removed from the area. It is important that everyone goes home safely.
More photos HERE.
With more than 80 years of combined experience, HTS Group is ready for your enquiry. Please call 1300 600 144 or submit an enquiry through our contact page. We believe there is no job too big or small.
Recently completed by HTS Group, an Asphalt Driveway for a property.
HTS are regularly contracted to complete civil works such as road repairs and drainage solutions.
Our Civil and Construction Supervisor, John Oldfield, managed this project.
The job involved pulling up all the old pavers and preparing the path for asphalt to be laid.
Then prepare the sub-base, make sure drainage correctly, before compacting the sub-base.
Next step is to reshape for water, re-sheet with 10mm of asphalt. Afterwards, we added new speed bumps.
Funny story.
The path backed onto an Elderly care facility with a gate that usually allowed for residents to leave from. Several of the residents tried to remove the safety tape while we were completing the job so they didn't have to walk around the whole block to get to the local shops.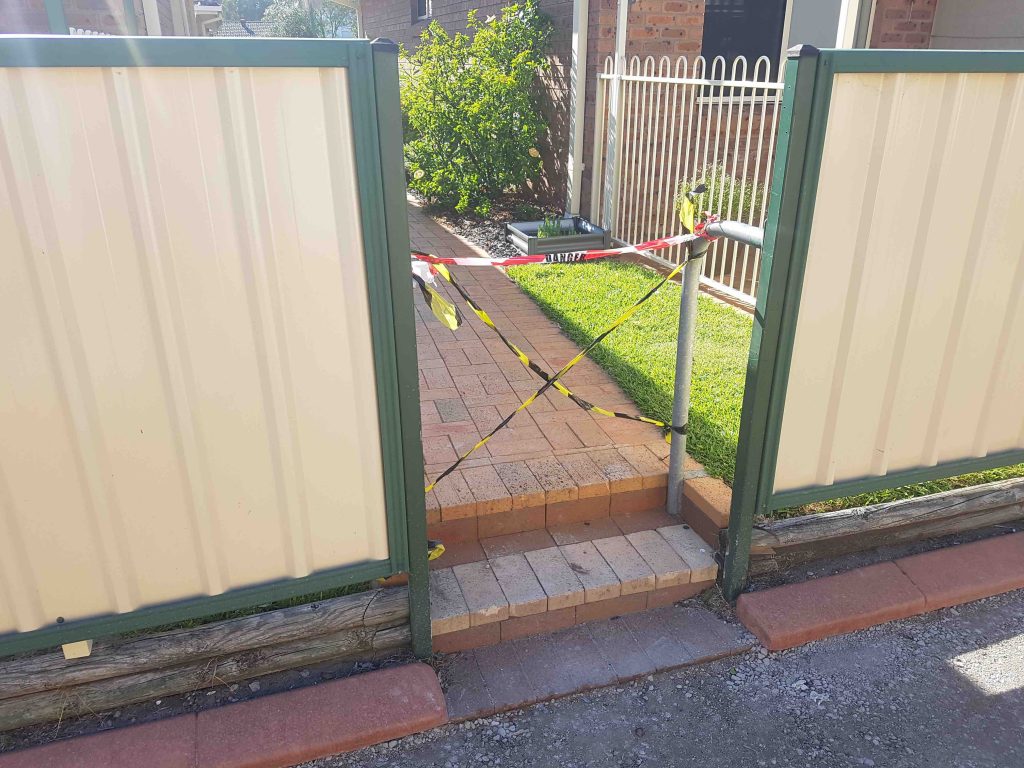 HTS Group are experts at Asbestos Removal, Demolition, Roofing, Mould Remediation, Civil Works and Site Maintenance.
With more than 80 years of combined experience, HTS Group are ready for your enquiry. Please call 1300 600 144 or submit an enquiry through our contact page. We believe there is no job too big or small.
HTS Group and Castle Personnel are always proud to support employees positive pursuits.
The young staff member at HTS Group, Blake Carr, recently competed at the 2018 Oceania Melanesian Regional Championships in Vanuatu with a little help in sponsorship to fly him over thanks to HTS Group.
Blake went to the Para-games to compete in Discus and was placed in the Open Men's division and still managed to place 8th. An impressive result. Blake has been competing in Athletics since 2011 and at a club level since 2014 including 100m, 200m and 400-meter running events.
He already has his sights set on competing in the INAS Global Games to be held in Brisbane during 2019. INAS is the International Federation for Sport for para-athletes with intellectual impairment.
Blake is really enjoying working at HTS "having an income has allowed me to pay entry fees for Athletics as well as covering my bills, while having some money for a social life is great too" and is thankful that Castle found him this opportunity.
Operations Manager at HTS Group, Craig Oldfield, comments on Blake "we always need workers that can listen and follow instructions and that are willing to get in and have a crack to get the job done and Blake has fitted in really well with the team and listens to his site supervisors. Honestly, we need more workers like him".
Account Manager at Castle Personnel for Blake, Liam Wanless adds "It's been fantastic to see Blake thrive in his role at HTS. Working casually has given him a greater sense of independence and allowed him to financially support himself in his athletics career. All of us that know Blake here at Castle are very proud of the discipline he has demonstrated in juggling multiple commitments the way he has. Feedback from HTS has been extremely positive and we are all glad he now has a sustainable role to fund his pursuits on the track!"
For over 25 years Castle has supported people with a range of disabilities to find open employment and reach their independence goals. With care and drive we continue to change lives and enrich the wider community.
Our services are provided throughout the Hunter and Central Coast regions of NSW.
Can HTS Group mow your lawn?
HTS now offer commercial lawn care as part of property maintenance services. This also includes grounds maintenance, landscaping, grass cutting, and all forms of lawn maintenance.
Lawn maintenance involves mowing, whipper snipping, gardening, pruning, weeding, fertilising, weed killing, rubbish removal, and turfing.
HTS Group has experts skilled in the trades of everything from gardening, to bricklaying, to electrical and even pressure cleaning. If you're looking for a trusted partner to work on your property maintenance project, get in touch with the HTS team to find what works best for you.
With over 80 years combined experience in providing the right property solution for industrial, residential and commercial clients across Australia, we have a workforce ready to project manage and deliver an extensive range of services based on your specific needs.
Why choose HTS for Commercial Lawn Care?
A result of working with removing Asbestos safely means that HTS is always conscious of keeping everyone safe on every work site. All our staff are focused on delivering a professional service with a keen eye Work, Health and Safety (Previously known as OH&S or Occupational Health and Safety) All of our staff are insured and have appropriate certifications for their roles.
Types of Businesses HTS works with: Hospitals, Schools, Real Estate agents, Aged Care facilities, commercial estates, building developments and a range of corporate partners.
Happy clients include: Ausgrid, Pacific National, Hunter Water, Forster Private Hospital, John Hunter Hospital and Liberty One Steel.
HTS is here to Help! Contact us today.
Not every company has the right tools to do every job. Having specialist tight access equipment means that HTS Group can provide assistance on jobs that most other contractors can't fit into.
Our Mini Excavator, for instance, is a 2-tonne excavator capable of shrinking the footing to move into spaces as tight as 980 millimetres. As you can see in this job at Wyoming, Working in confined spaces, our staff were able to manoeuvre in difficult terrain to remove contaminated soil from the site.
This particular excavator also has an extra long arm that enables a longer reach to complete the job. It comes in handy more often than expected.
Tight Access Equipment: Mini Excavator
BOBCAT – E20 Compact Excavator
Operating Weight: 1953 kg
Travel Speed – High 4 km/h
Travel Speed – Low 2.4 km/h
Arm Digging Force: 9,279 N
Bucket Digging Force: 20,835 N
Rated Lift Capacity: 464 kg
Boom Swing – Left: 80° –  Right: 60°
Maximum Reach at Ground Level: 4.3 m
With more than 80 years of combined experience, HTS Group are ready for your enquiry. Please call 1300 600 144 or submit an enquiry through our contact page. We believe there is no job too big or small.
Prefer to call direct? Contact John Oldfield, Civil & Construction Supervisor, to arrange booking the excavator with a driver: 0448 860 045  or john@grouphts.com.au
---