---
HTS Group recertified for AS4801:2001 OH&S Management Systems
HTS Group's Safety Management System was recently audited by QMS Certification Services as part of the regular recertification process.
The auditor carried out a thorough review of all documentation and processes, and reviewed safety management across a range of projects including a site inspection of our new Thornton facility. Results for the audit were very positive and our Safety Management System has once again been recertified.
HTS Group operates in accordance with the requirements of AS4801:2001 OH&S Management Systems for the provision of asbestos removal, demolition, civil construction, mould remediation, site maintenance and roofing services. We first achieved AS4801 certification in December 2012 and have continue to improve our systems and standards every year.
Our team are additionally working toward the new ISO 9001 Quality Management Systems standard which is an international standard designed to support continuous improvement, streamlined operations, and reduced costs.
HTS Group is aiming to achieve this during our 2019 external audit.
Thanks to Michelle Pickett for her efforts managing the audit process and congratulations to the whole team for maintaining high safety standards on site!
Interested in keeping up with the latest news and developments at HTS Group? Follow us on Facebook or Instagram, and bookmark our blog.
Did you know that every year in Australia, almost 4,000 lives are lost to asbestos-related illnesses?
A breakdown of this figure shows the reach and impact of this ongoing tragedy:
48 die from Laryngeal Cancer
77 die from Asbestosis
766 people die from Mesothelioma
3,017 die from Asbestos Related Lung Cancer
As a business with over 80-years combined experience in commercial and residential asbestos removal services, HTS Group takes seriously its responsibility in helping raise awareness of the dangers of asbestos and promote safe practices around its detection, testing and removal.
That's why this November we got so strongly behind Asbestos Awareness Month, an initiative to educate Australians on the dangers of asbestos, and raise money to help combat the insidious effects of asbestos-related illnesses.
For those who may not be aware, asbestos fibres were used widely in building materials before the mid-1980s due to its flame-resistant attributes. If a home or commercial premises was built or renovated before 1987, it is likely to contain asbestos.
This hazardous material can be found under floor coverings such as carpets, linoleum and vinyl tiles, behind wall and floor tiles, in cement floors, internal and external walls, ceilings, eaves, garages, around hot water pipes, even in fences. Decades after being identified as hazardous, the widespread use of asbestos means it remains an often-hidden threat to public health.
Raising awareness of the dangers of asbestos
Here's how asbestos can put you and your family at risk if inappropriately handled:
Asbestos fibres get into the air when asbestos materials are damaged, disturbed or removed unsafely.
When crushed, it does not make ordinary dust, but breaks into tiny asbestos fibres that are too small to see, feel or taste.
These microscopically thin fibres are so small they can remain airborne for days after their initial disturbance, capable of entering the airways and lungs undetected and potentially causing severe asbestos related health-issues over an individual's lifetime.
Sadly, while our team works every day providing safe asbestos removal services, HTS Group is often called in to remove illegally dumped asbestos on roadsides, in paddocks, in parklands, and even in National Parks.
This year, HTS Group was pleased to see that the NSW Government increased fines for illegal asbestos dumping in NSW to a whopping $500,000 for individuals and $2 million for companies. It's a great start. And that kind of awareness-raising is part of the reason we threw our weight behind Asbestos Awareness Month.
The Blue Lamington Drive
We shared useful information and figures across our social media channels. We also themed our internal 'toolbox' meetings around Asbestos Awareness, and held a Blue Lamington Drive at our recent Thornton opening, attended by clients, suppliers, and neighbours of our new location.
An important fundraising vehicle for the Asbestos Diseases Research Institute, the Blue Lamington Drive was a great success. And we're proud to have been a part of it. HTS Group extends our thanks to everyone who engaged with Asbestos Awareness Month, whether in person or online, and who contributed their hard-earned money to our Blue Lamington Drive – every bit counts.
Remember, November may be over, but the risks of asbestos persist. If you're renovating, get a proper site inspection done – don't play renovation roulette! Report any illegal dumping, and NEVER try to move or remove asbestos without the appropriate protections.
Keep the following at the top of your mind at all times if you suspect you may be dealing with asbestos:
Be aware – is it there?
Be cautious – no go, until you know!
Be safe – safely dispose, don't expose
Be curious – if in doubt, find out!
And when in doubt, leave it to the professionals to find out – your health and family are just too important to consider messing about with asbestos.
HTS Group welcomes clients, suppliers and neighbours to our new Thornton facility.
On Friday 30 November HTS Group welcomed clients, suppliers, neighbours and friends to our new Thornton facility with an informal breakfast networking event. It was a great opportunity to show off our new premises, as well as to meet other businesses in the precinct and thank existing clients and partners for their support.
Our Business Development Manager Trevor Grieve took the opportunity to welcome everyone, before providing a brief overview of the range of services provided by HTS Group including asbestos removal, demolition, roofing, mould remediation, civil works and site maintenance. He also conducted the all-important business card prize draw! Congratulations to Peter Allen from PLA Management Services for taking out the prize.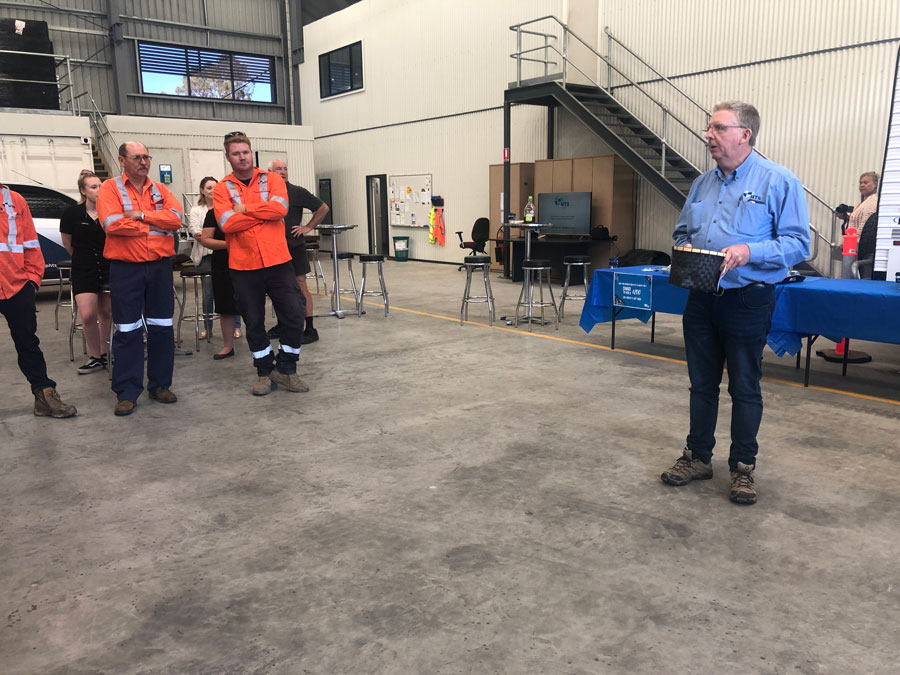 The November timing of the event also aligned with the end of Asbestos Awareness Month [LINK TO HTS AAM BLOG] so the HTS Group team took the opportunity to take part in the Blue Lamington Drive, helping raise awareness among colleagues, family, friends, neighbours, and communities of the dangers of asbestos when renovating or maintaining homes. The Blue Lamington Drive is one of the major vehicles for raising vital funds to support the Asbestos Diseases Research Institute. HTS Group was proud to be part of these efforts. Thanks again to all those who made a donation on the day to support this great cause.
While we're passing along our gratitude and appreciation, we'd like to say a big thank you to everyone who attended, to the HTS Group staff that helped organise the event, and to the team members who manned the BBQ on the day, turning out some delicious bacon and egg rolls.
Lastly, the day simply wouldn't have been the same without Sophie from Newy Brew serving up some sensational coffee, or the fabulous Blue Lamingtons from Sweet Moments By Design, East Maitland. You helped make the morning something really inclusive and welcoming for everyone in attendance.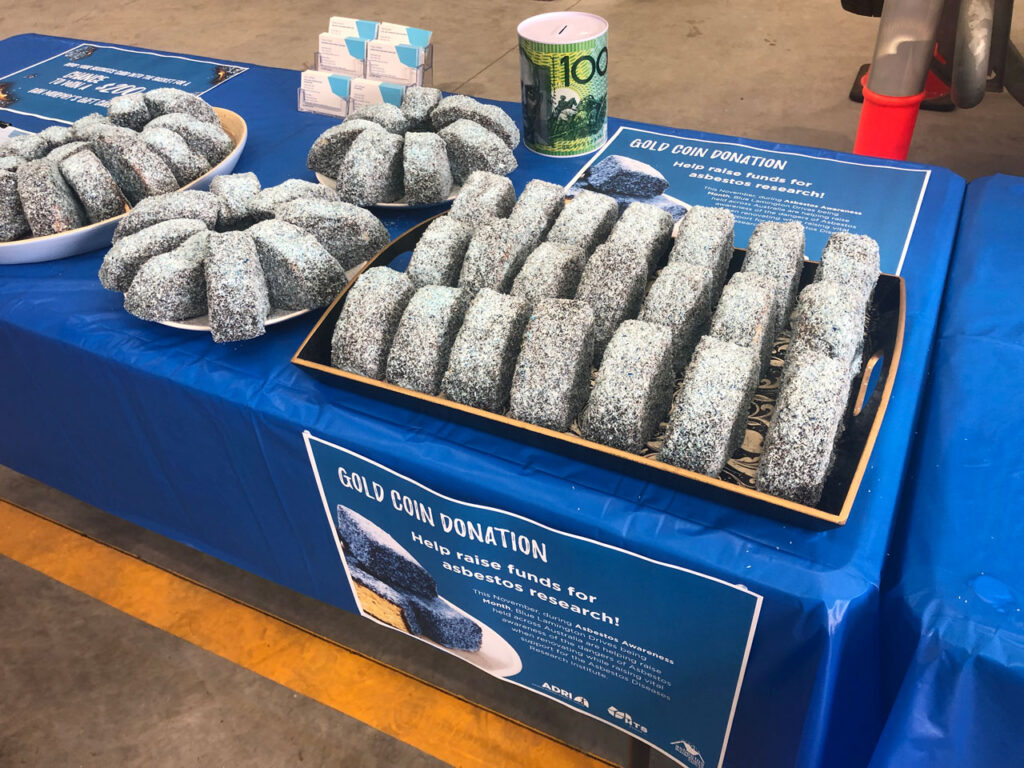 HTS Group is very pleased with our new facility, and look forward to seeing you all again at similar events in the future. Remember, if you're concerned about possible asbestos in your area, please give HTS Group a call on 1300 600 144 – we have the equipment and the experience to help make your renovation or removal a cleaner, safer affair.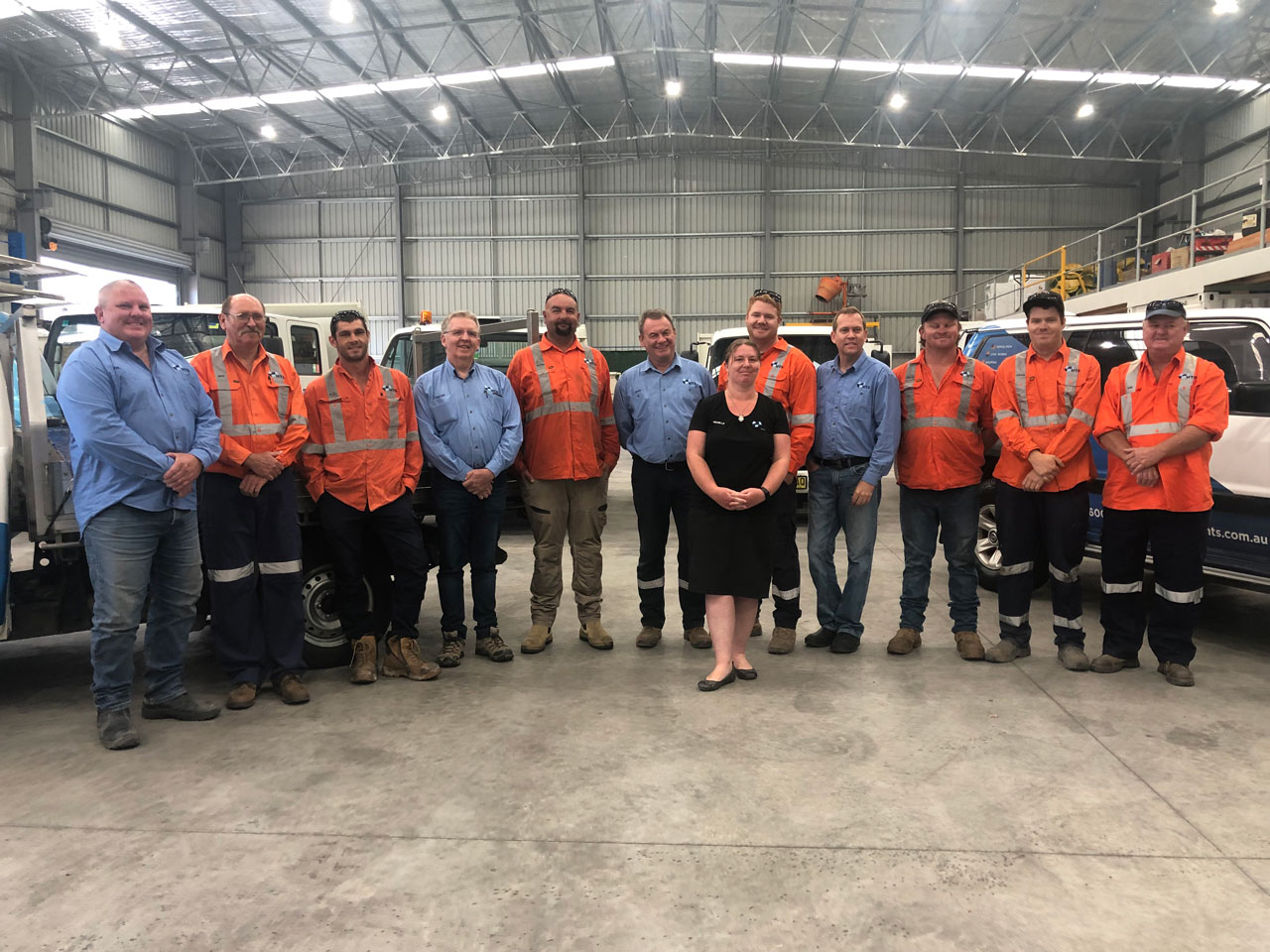 ---